Drawback: 6 questions to understand the special customs regime
24 de março de 2021
Do you know what drawback is? Anyone who works with international logistics processes has certainly heard at least about it. This is a special customs regime that encourages exports by industrial and commercial companies. Established in 1966, the drawback is the suspension or exemption from taxes on imported inputs for products to be exported.
The mechanism acts as an incentive for exports. It helps to reduce the costs of exportable products, making them more competitive in the international market. In practice, it means that a company that needs a certain imported item to industrialize in Brazil and then export it, will be able to import it with tax exemption or suspension. In this way, it makes the final cost of goods manufactured in Brazil less costly. And, consequently, making it more competitive for sale in the foreign market.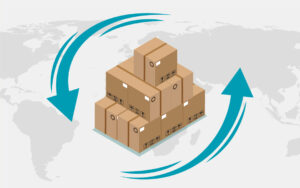 To make it even easier to understand, here is a practical example of a commodity that is being talked about a lot in the middle of the pandemic: the syringe.
The syringe requires the following materials to be manufactured:
– Cylinder: made of non-toxic polypropylene plastic
– Stem: made of non-toxic polypropylene or polyethylene plastic
– Piston: made of non-toxic thermoplastic rubber, free of natural latex
Considering that a company in Brazil manufactures the complete syringe, it will need all of these supplies and will be able to import them with the Drawback benefit. As a result, it suspends or exempts taxes on imports, manufactures the syringe and exports the finished product at a lower cost.
1) What are the Drawback modalities?
There are three main types of Drawback: Exemption, Suspension and Tax Refund. The refund drawback is practically no longer used. The export incentive instrument includes exemption and suspension modalities.
Exemption: it consists of exemption from taxes levied on the import of goods, in equivalent quantity and quality, intended for the replacement of another one previously imported, with payment of taxes and used in the manufacture of exported products.
In practice, it works like this: the company proves to the Federal Revenue that in the last two years it imported and paid the product X taxes and used it to industrialize some goods that were exported. Now, she wants to replenish the stock of this product X, importing it with tax exemption to continue benefiting goods to be exported.
Suspension: consists of the suspension of taxes levied on the import of goods to be used in the industrialization of products for sale on the foreign market. In Drawback Suspension, the product will be imported with tax suspension, for the purpose of industrialization.
2) When can the company use Drawback?
As soon as it internally identifies the financial potential to be repaid through a plea for concessional act, Drawback can already be requested.
3) Who can use this special regime?
The special Drawback regime is granted to industrial or commercial companies that import raw material with the objective of subjecting it to an industrialization process in Brazil, being the destination for export.
4) What are the benefits of Drawback?
Exemption or suspension of import taxes making the product more competitive in exports, development of the domestic economy with the increase in exports and job creation.
5) What taxes are suspended or exempted with Drawback?
In suspension: import tax, tax on industrialized products, PIS, COFINS, AFRMM and ICMS.
Exemption: import tax, tax on industrialized products, PIS and COFINS.
6) How to request Drawback?
Consult the manuals that govern Drawback in Brazil and stay on top.
Drawback suspension: http://siscomex.gov.br/wp-content/uploads/2020/11/Passo-a-Passo-Suspensao_Portaria-44_1aed.pdf
Drawback exemption: http://siscomex.gov.br/wp-content/uploads/2020/08/Manual-Isencao-Portaria-44_1a-edicao.pdf
>>> CHECK ALSO – Customs clearance: the key to safe logistics
The Allog team has expertise in Drawback and other types of special regimes for importing and exporting goods. In-depth knowledge of the rules that govern foreign trade in Brazil is essential to understand deadlines, reduce costs and improve companies logistical strategies.