Glycerin: Product use wins versatility and expands markets
10 de março de 2021
Brazil is a major exporter of raw materials, no one disagrees. In the wake of the country's foreign sales, there is an economic segment whose business is doing very well: glycerin.
A byproduct of biodiesel production, glycerin gained versatility and different status with the discovery of new, increasingly noble, applications. João Fróes, liquid cargo manager at Allog, explains that the glycerin that leaves Brazil in abundance can return to the country in the composition of finished products from different industrial segments.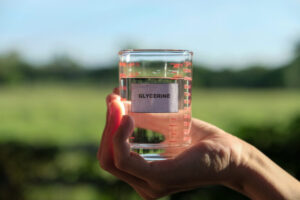 An example is the presence of refined glycerin in the composition of toothpaste, so common in our daily lives. It is also incorporated in gel alcohol, another industrialized product that has become a mandatory item in hand hygiene in pandemic times.
Comprehensive use
Fróes reports that, as it is an extremely comprehensive product, it is used by different segments of the industry, such as in chemistry, food and pharmaceuticals. "We can find glycerin even in chocolates and automotive paints", he details.
>> Have you already downloaded our e-book on CONTAINER MEASURES?
In Brazil, one of the uses of glycerin is for the production of polypropylene (PP). This plastic is widely used in automobiles, home appliances, disposable syringes, diapers, food packaging and cleaning products.
Export growth
Between 2019 and 2020, Allog's participation in the glycerin movement grew by 110%. Currently, 60% of the liquid containerized cargo export that Allog carries out is destined for the Asian continent. China is the main buyer. The ports with the greatest movement of liquid cargo in Brazil are Rio Grande (RS), Paranaguá (PR), Santos (SP) and Salvador (BA).
ALSO READ: Brazilian glycerin exports leverage the liquid cargo market.
With the gradual heating up of the economy, domestic fuel consumption begins to return to pre-pandemic levels. "Therefore, the production of biodiesel accompanies this resumption", Fróes highlights. As a byproduct, glycerin will
continue to be produced on a large scale, with an average of 80% of its production turned to export.
As it is a liquid product, glycerin requires special care in logistics, whether in the correct packaging or in the care with door-to-door transport. "It is very important that, when exporting, a company specialized in the subject is sought", João Fróes points out. Allog has a department dedicated for liquid cargo operations, and extensive expertise in this type of business.
Growing production
Glycerin is a byproduct of biodiesel and, in Brazil, the addition of biodiesel in the composition of fossil diesel is regulated by Federal Law No. 11,097 / 2005. In 2005, when the national biodiesel program was implemented, the mixing percentage should be 2%. Currently, this ratio has rose to 13% and is expected to reach 15% by the year 2023. The greater the mandatory mixture, the greater the production of biodiesel in the national territory and, consequently, the greater the production of glycerin in the country.
Do you want to know even more about exporting glycerin and other liquid cargoes?