Malbec Day: industry celebrates wine consumption growth in Brazil
16 de abril de 2021
Among the different grapes that make up the wine universe, one of them gains prominence and international  howcase in the month of April. Malbec Day, celebrated on April 17, honors Malbec wine in almost 100 countries around the world and helps spread knowledge about the drink.
Of French origin, from the Cahors region, the Malbec grape did very well in the terroir * of Argentina. Today it is the second favorite of the Brazilian, behind only Cabernet Sauvignon.
To mark Malbec Day and spread knowledge about Malbec wine, the Allog Blog invited two professional references in the dissemination of wine culture to talk about consumption in Brazil: sommeliers Laura Wortmann and Giuliana Ferreira.
Laura graduated from FEHV in Valencia, Spain, and worked for the three best restaurants in Valencia during the 7 years she lived there. Today, she works in the courses and training department of Mistral Importadora, which imports the best wines in the world into Brazil.
Giuliana Ferreira is a graduate of the Brazilian Association of Somméliers and has a vast curriculum in the world of wines. Currently, he is the Brand Ambassador for the Catena Zapata Family, El Enemigo, Bodegas Ernesto Catena, Bodegas Caro, and Laura Catena with La Posta and Luca and Viña Montes, iconic wineries in Chile and Argentina and who were the first to believe in the potential of the terroir these two countries.
Laura and Giuliana explain that the change in habits caused by the pandemic – when people spent more time at home and cooking for family and friends – ended up encouraging growth in the consumption of wine at home. "Many
customers dared to try different wines or invest a little more in the name of this experience", details Laura.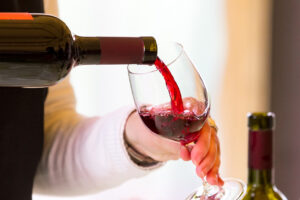 The growth of this market also had a direct impact on international logistics. According to Tatiana Piazza, Allog's corporate commercial analyst, the increased demand and the new customers demand for Allog's service due to the success of the Wine Logistics Campaign placed the company in the top 5 of the cargo agents in the wine import segment in the country. "We have a team both in Brazil and abroad, with vast knowledge about the transport of wines. The competitiveness of our values and the close contact with our customers made Allog a reference in the segment", says Tatiana.
>>> Download the free e-book: THE WINE LOGISTICS
Check out an exclusive interview for the Allog Blog on the week of Malbec Day with sommeliers Laura Wortmann and Giuliana Ferreira.
ALLOG BLOG: Data from OIV (The International Organization of Vine and Wine) already pointed to Brazil as a growing market in recent years. However, it was only in 2019 that the country surpassed the mark of 2 liters / inhabitant. What is needed for the country to further increase the consumption of wine?
Laura: This is still a very new market. I notice that the consumer is increasingly curious to learn about the world of wine. I perceive this consumer to be much more open to trying different wines and varied styles, and this is wonderful because it shows that we only must grow. I remember that when I returned to Brazil 10 years ago, the Brazilian only knew red wine. Currently, there is already a much larger opening for whites, roses and sparkling wines. The growth in consumption will take place naturally through knowledge and the ever-increasing offer of wines of the most varied styles and for the most different pockets. I believe that consumers who enter the world of wine get a taste and never leave. With so much on the market it is almost impossible not to find a wine to please.
Giuliana: With the diversification of the public, wine consumption has been growing year by year. This includes younger consumers, from different social classes and styles. I see this transformation very clearly with the Catena Zapata wines, which bring innovations in their lines to each audience and talk to all consumers of the drink.
ALLOG BLOG: Can we say that the need to stay at home longer, the closure of bars and restaurants, the investment in more refined drinks and the change in habits, have made wine consumption increase at home?
Laura: I believe that people have allowed themselves to enjoy this gastronomic moment – once lived in restaurants – in their homes. Without the possibility of going out or traveling, many people tried to bring these moments of pleasure home. Whether cooking or ordering a more special food, often accompanying a good wine. I noticed that many people were interested in learning about wines to understand what they were drinking and to have autonomy when buying. I also noticed a lot of interest in knowing about harmonization. This family time brought the wine experience to the home. Many customers have dared to try different wines or invest a little more in the name of this experience.
Giuliana: I noticed that in this isolation, there was more time with the family. They are longer meals and that time spent in traffic could be used for tasting a glass of wine, alone or accompanied. People are receiving more information on the internet about the universe of wine, and this contributes to greater consumption. This change in habit meant that people did not only consume wine in restaurants, but also in their homes. And I hope that this new habit will last when all this is over.
ALLOG BLOG: According to Wine Intelligence, among red wines, Malbec is the second favorite among Brazilians. It is only behind Cabernet Sauvignon. What are the characteristics of this grape? And what other grapes please the Brazilian palate?
Laura: Both Malbec and Cabernet are grapes with a lot of color and tannin, responsible for the structure and body of the wine. The tannin causes an astringent sensation on the palate. Cabernet has a more marked tannin and Malbec, a softer and velvety tannin. Obviously, depending on the growing region and wine lines, these characteristics vary. I notice that the Brazilian likes fleshy and exuberant wines because they are more accustomed to consuming wines from the New World. More than grapes, I would talk about styles. Usually, this consumer will also identify with wines from other countries in the New World. This includes Australia, the United States and South Africa, or structured Europeans, usually from regions with more sunshine, such as some regions in Spain, Portugal and Southern Italy.
Giuliana: In general, Brazilians like wines with more fruit, round and with marked, yet elegant tannins. If we point to the most consumed wines in Brazil, they are red and the preferred strains are Malbec and Cabernet Sauvignon, with characteristics that generate full-bodied or medium-bodied wines. Most consumers will give preference to the New World, Argentina and Chile. This leads us to believe that we still have a long journey of knowledge. This is what
enchants lovers of this drink. This includes discovering new regions, different strains and lots of tasting to find your favorite style. There is no such thing as the best wine. There is what we like most.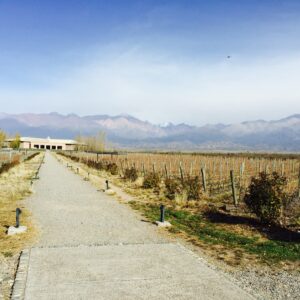 ALLOG BLOG: What makes Malbec so special and loved in Latin America?
Laura: The Malbec grape is originally from Cahors and has a characteristic intense color and structure. It produces full-bodied wines that were even called "black wine". They were Leonor de Aquitania's favorites. In its cradle, it shows a more austere and elegant facet. In Mendoza, it has adapted beautifully, showing its most exuberant side, with lots of fruit and soft, velvety tannins. I think what makes Mabec wine so loved is its versatility, pleasing from those who like potent wines to those who are starting out in this universe.
Giuliana: This grape so emblematic in Argentina has become one of the favorites of Brazilians. It has a purple color, black fruit aromas and elegance. Catena Zapata was founded in 1902 by the hands of an Italian immigrant, Nicola Catena, who contributed a lot to the history of the Malbec grape in Mendoza. Several decades have passed and Catena now owns the Istituto Catena for research on this very special grape. A grape variety that has adapted very well to the Argentine terroir and has unique characteristics. This includes seductive aromas and the complexity that delights both Latin American consumers.
ALLOG BLOG: The fact that Brazil is a tropical country, with higher temperatures, makes many Brazilians prefer other drinks. How to make this consumer drink more wine?
Laura: I notice a very big difference in the consumer for a few years now. When I returned to Brazil, 10 years ago, practically only talked about red wines, regardless of the occasion, climate or location. Today there is already a much greater opening to whites, rosés and sparkling wines. There are wonderful styles to enjoy in the pool, on the beach, with light dishes that are very pleasant and super suited to our climate. The way to make this consumer drink more wine is by spreading, showing, disseminating, teaching about these products. Today we have an incredible offer, which allows us to find the perfect wine for the palate, moment or season.
Giuliana: I have been in the world of wine for almost 20 years, and every day we take a bigger step in the consumption of this very special drink. Today we have a younger audience consuming white, sparkling and rose wines. These gained a special place, after decades of being less consumed. Catena Zapata launched, less than a month ago, the Catena Rose Malbec, designed exclusively to be launched in Brazil. This shows that the consumption of rosés has grown and will still grow in the coming years.
ALLOG BLOG: Mistral is known for having one of the most complete varieties of wines in Brazil. What makes the importer such a reference in the wine segment?
Laura: Without a doubt the selection of producers, handpicked by Ciro Lilla, a deep connoisseur and wine lover. It is no wonder that Mistral's slogan is the "Importer of the Best Wines". We work with the best and most awarded producers from the most different regions of the world. Strong names like Catena, Montes, Gaja, Vega Sicilia, Montille, Drouhin, Grahams, Tondonia. There are more than 300 incredible producers composing our portfolio. In addition, there is great care in the transport and storage of these wines so thatthey always reach the consumer perfectly. We have an extreme care also in our service. Our employees are in constant training to offer quality assistance and information to our customers.
* Terroir: specific locations that produce unique wines, which will only be obtained in a given region due to the convergence of geographical, climatic, historical and cultural factors concentrated in the region.