Use of flexitanks: versatility helps the sector to grow 18.9% per year
26 de abril de 2021
You have certainly heard of the use of flexitanks to move liquid cargo around the world. The size of the global flexitank market was valued at $ 612.5 million in 2019 and is expected to grow at an average annual rate of 18.9% through 2027. The growth in international trade, coupled with the competitive benefits of this type of equipment, should boost the sector.
João Fróes, Allog's liquid cargo manager, explains that the use of flexitanks includes a wide range of liquid products. This includes wines (for export), fruit juices and non-hazardous chemicals and pharmaceuticals.
The market is heated in Brazil. In 2020, for example, Allog increased the use of flexitanks by 80% compared to 2019.
Wine in flexitanks?
An increasing number of companies are adopting the use of flexitanks due to their low cost and high durability. In countries like the United States, for example, they can be used to transport wine in bulk, which shows the versatility of this type of packaging.
In Brazil, the use of flexitanks to transport wine is only allowed for export. National legislation does not allow the import of wine in packages exceeding five liters.
Unmatched versatility
The Brazilian industrial segments that use the container the most, according to João Fróes, are glycerin, vegetable oils and non-hazardous chemicals. As they are used for single use, which reduces the risk of contamination, in the international market the transport of food products such as olive oil and pepper sauce deserves special mention.
>>> CHECK OUT ALSO: THE 7 ADVANTAGES OF TRANSPORTING WITH FLEXITANK
"Flexitanks transport any non-hazardous liquid product, so the range of possibilities is wide. Food products are among the most curious ", highlights the Allog professional.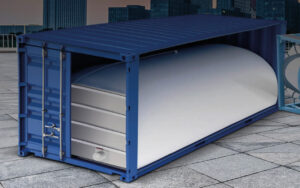 Following the trend of the main products exported in flexitanks by Brazil, Allog is a great transporter of glycerin, vegetable oils and non-hazardous chemicals.
More payload capacity
Flexitanks have, on average, 15% more payload capacity than Intermediate Bulk Containers (IBCs). They also have 44% more than the drums. This makes them bulk packaging solutions economically favorable.
>>> DO YOU KNOW OUR FOREIGN-TRADE DICTIONARY? DOWNLOAD FOR FREE.
In addition, they have immediate availability and provide business just in time. Zero cleaning costs due to single use and benefits to the environment – since they are 100% recyclable – are some other competitive advantages of using flexitanks.
Allog has its own stock of this type of equipment, providing integrated logistics and operation in different ports in Brazil. In addition, it has a team specialized in this type of logistics.
Do you want to know more about cargo handling in flexitanks?