TOTAL CONTROL OF YOUR CARGO, ALLIED WITH MODERN ORGANIZATION AND A GLOBAL INFRASTRUCTURE
SEA TRANSPORT
We are ready to offer you complete logistics through maritime transport. We offer exclusive deals with first-line ship-owners, bringing benefits focused on efficiency, reliability and transparency for our customers.
Full Container (FCL) and Consolidated (LCL);
Specialized service:
Experienced team with a focus on customization.
We know how to help your business!
Partnership with the main ship-owners,
Monitoring the service provided to our Clients via performance indicators;
Follow-up Evolved:
Customized, transparent and objective information available via the

Allog Portal

, bringing agility, safety and ease of access to keep those involved fully informed about the operation.
Key Performance Indicators (KPI)
Our team is trained to measure all the critical points of logistics, from space reservation to cargo delivery.
We are ready to commit to your results!
Exclusive Worldwide Agent:
Add value by having both importer and exporter aligning international logistics with efficiency.
ISO 9001:2015
Quality Management System, provides transparency for the Maritime operation, maintaining the flexibility that each client demands.
International Insurance
The guarantee that travels with your cargo.
Online BL form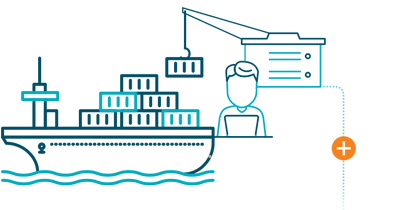 Providing agility in the issuance of documents;
Storage structure:
Consolidation and storage solutions at a global level, which translates into a logistics network with local agents specializing in your business.