The certification aims to improve Allog's management and increase customer satisfaction.
Identify the context in which the company is inserted
Gain a holistic view of the organization using the process approach
Identify risks that may impair the progress of activities
Measure and evaluate process performance and effectiveness results
Ensure continuous process improvement
Continuously monitor customer satisfaction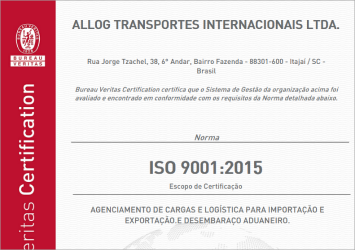 The certification elevates the company to a position of strategic partner of the Federal Revenue of Brazil. It means that it is reliable and low risk when doing business abroad. In exchange, it is possible to enjoy competitive advantages, streamlining export operations.