The purpose of the certification is to improve the management at Allog and to raise the customer satisfaction.
Identify the context in which the company is included
Obtain a holistic vision of the organization by using the approach of processes
Identify risks that might harm the activities
Measure and assess the performance of results and the efficacy of the process
Guarantee the continuous improvement of the process
Continuously monitor the customers satisfaction
Certified Units:                       
– Itajaí/SC
– Porto Alegre/RS
– Campinas/SP
– São Paulo/SP
– Curitiba/PR
– Santos/SP
– Manaus/AM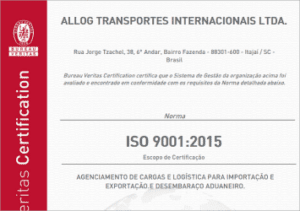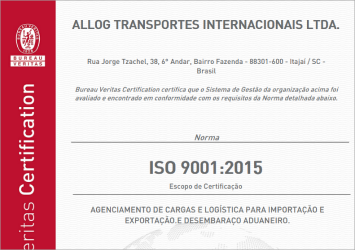 The certification takes the company to a strategic partner position for the Brazilian Federal Revenue. That means the company is reliable and offers low risk when it comes the moment to do business abroad. In exchange, it is possible to benefit from the competitive advantages in agile exporting operations.
Certified Units:
– Itajaí/SC
– Porto Alegre/RS
– Campinas/SP
– São Paulo/SP
– Curitiba/PR
– Manaus/AM