The 2026 World Cup will have at least two unique and special details. It will be the first to be played in three countries (Canada, the United States and Mexico) and also the first to bring together 48 teams and not 32, as usual until today.
In Canada, the host cities will be Vancouver and Toronto. In Mexico, the matches will be played in Guadalajara, Monterrey, and Mexico City. In the United States, the teams will play in Seattle, San Francisco, Los Angeles, Kansas City, Dallas, Atlanta, Houston, Boston, Philadelphia, Miami, and New York.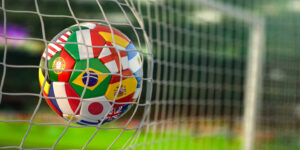 The 2026 World Cup matches will increase from 60 to 80 with the new number of participating teams,  but the number of matches needed to be the champion will remain the same: seven. The new format will have a first round of 16 groups with three teams, of which two will qualify for the second round with 32 teams. From then on, it will be the traditional play-offs competition.
First Cup: 13 teams
The first Cup in history, held in 1930 in Uruguay, had only 13 teams. In 1934, the number of teams was 16. After the 1982 World Cup in Spain, the number of teams increased to 24, and only since 1998, 32 teams have competed for the World Cup title.
That year, the spots were divided among the six soccer confederations representing all continents. Starting in 2026, with 48 teams, each continent will get more spots in the Cup.
The division of spots for the 2026 World Cup will look like this:
UEFA (Europe): From 13 to 16 spots
CAF (Africa): From 5 to 9 spots + 1 in the play-offs
AFC (Asia): From 4 to 8 spots + 1 in play-offs
Conmebol (South America): From 4 to 6 spots + 1 play-offs
Concacaf (Central & North America): From 3 to 6 spots + 1 play-offs
OFC (Oceania): From zero to 1 spot + 1 in play-offs